About Magician and Hypnotist Cesar Domico
---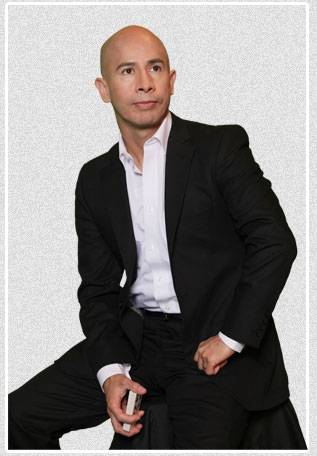 Cesar Domico was born on January 1, 1973 in Colombia, South America. He has more than 20 years of experience as a magician and entertainer and has obtained certified training in both clinical hypnosis and transpersonal hypnotherapy.
As an international, award-winning magician, he has performed shows throughout North and South America, appearing frequently in newspaper and magazine articles as well as on television programs.
Cesar now tours theaters and performs private magic shows throughout his home state of Florida.
Cesar Domico, the Magician:
As a professional magician, Cesar has more than 20 years of experience working on stage shows in the United States, Latin America and Canada. He is a three-time champion of card magic tricks in Latin America and the United States -- including taking first place in a national competition for card magic in Colombia. He has performed for large, corporate events as well as for private parties, schools and libraries, in both English and Spanish, from Toronto to Bogota, from California to Florida -- including Orlando, Miami, Tampa and 30 other cities in the Sunshine State alone.
Cesar Domico, the Hypnotist:
Cesar is a certified trained hypnotist with more than 500 hours of training in both clinical hypnotism and transpersonal hypnotherapy. Cesar has developed his Comedy Magic & Hypnosis Show as well as his Comedy Hypnosis Show to include hypnosis demonstrations for a versatile, educational and entertaining show at theater, corporate and university events as well as private parties. He also gears special shows to helping participants quit smoking, lose weight, relax, meditate and to develop positive thinking patterns.
Cesar Domico, his background, dedication, and love for magic and meditation:
While Cesar long knew he wanted to be a full-time magician, he also understood that it took more than the mastery of card tricks to become a professional. In his 20s in Colombia, Cesar studied Philosophy, television and Theater and earned a bachelor's degree in communications. Later in the United States, he studied marketing and web design and obtained training for clinical hypnosis and transpersonal hypnotherapy.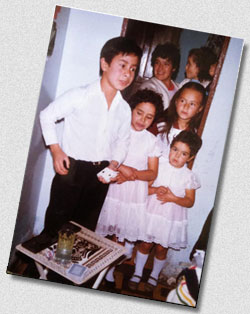 Cesar first fell in love with magic as a little boy in Bogota and began to teach himself tricks by reading magic books at the age of 8. His parents noticed his love for magic but didn't pay much attention, as many boys that age went through a passing infatuation with magic. But Cesar's infatuation never faded. It grew stronger. At the age of 9 he started to perform magic shows for his family and friends.
Born into a Catholic family, Cesar felt pressure from his worried mom, Amparo, to study and have a successful and "normal" job, preferably not related to the arts and especially not magic. Cesar made her very happy when he decided to explore his interest in philosophy and becoming a priest. At the age of 18, after he finished high school, Cesar joined the seminary of the "Scalabrinianos" of Saint Carlos Borromeo on the other side of the capital city of Bogota. There at the seminary he was educated in the Catholic doctrine on the way to becoming a priest. He also studied philosophy and religion at the University of Saint Buenaventura, also in Bogota.
Cesar Domico, his spirituality:
In his early years at the university, Cesar met Fernando Baena Bejarano, his professor in a class on history of philosophy. Fernando taught him about transcendental meditation. Cesar was amazed by what he was learning. He started reading books about meditation and self esteem and later he learned transcendental meditation from Fernando and took classes on Reiki and visualization.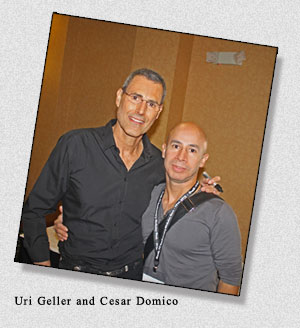 One book in particular left a big impact on him -- The Orange Spot by Uri Geller, the famous mentalist known for bending spoons.
Meanwhile, at the seminary Cesar went on missions to help displaced communities, took part in Catholic catechism to help kids prepare for First Communion. But he never could let go of his love for magic. For a few years he would sneak out of the seminary at night to perform magic shows, and several times he was caught when returning late and was brought before his supervisors. They encouraged him to think and pray very carefully about his calling, and then to follow his heart, wherever it led him.
And so he did. After three years at the seminary, Cesar quit and decided to work toward becoming a full-time professional magician. He sought teachers and mentors, but most were very expensive or part of elite groups and clubs. Cesar tried to join one such elite club but was turned down three times. So Cesar returned to where he had always learned magic: books. Cesar scraped his money together to buy books on card tricks by authors and masters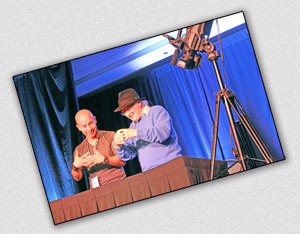 like Juan Tamariz, Rene Lavand, Roberto Giobbi and others. At the same time, to complement his love for magic, he resumed his university studies, this time deciding to specialize in communications and theater. His love for magic soared with all the new techniques he was learning. He absorbed magic trick videos and practiced 8 to 12 hours a day. After graduation, he started performing magic shows for corporations, private parties and television shows in Colombia. Pretty soon his comedy magic routines were a regular feature on the nightly variety television program called Sabadoss Felices, where he perfected an imitation of acclaimed magician Juan Tamariz in a wig and glasses.
Later when his life brought him to the United States, his love for magic sustained him through the arduous adaptation to a new country and language. Again from books -- this time all of them in English -- he learned marketing and web design, eventually launching a bilingual magic career that took him all over Florida. Over the years, still a practitioner of meditation, he began to read about hypnosis and hypnotherapy -- which are deep forms of guided meditation. The world of hypnosis excited him in a way that only his passion for magic could match. He fell in love with the art of hypnosis and discovered -- through his shows -- how to bring together all the loves of his life -- magic, meditation and hypnosis.
Cesar entertains, he amazes, he hypnotizes. But his real power -- the same power that he tells audiences is available to them -- is the belief in goals and dreams, the positive thinking that has guided him through obstacles all his life -- the magic of the mind.
Cesar Domico, author:
Cesar wrote Basic Magic With Cards, a book where he explains in simple steps how to do basic magic tricks with cards using a normal playing deck. The book is available in Spanish and English editions.
Cesar Domico, television performer: Cesar has appeared on various television programs through the years, such as Sabados Felices of Caracol Television; Gente Corrida, children programs of RCN Television; La hora Sabrosa; Tambien Caeras, and more.
In North America, he has performed on the television shows Sabadoss Gigantes and Despierta America of Univision in Miami, Florida.